August 31,2005

Alright ,alright, alright !!!!!!!The show at the Brooklyn Music Terminal with Nuclear Assault is over and done with and what a great time it was.
Lots of old friends and a lot of new ones were made that night. Nuclear Assault was absolutely loud and thrashing, and they should have been. They used all our equipment! Who better to beat the shit out of your gear than a legendary thrash metal band (Hang the Pope).
So next up at B.M.T. is Testament with, guess who? The mighty motherf#$%ing BEAST. That's right, keep your eye out for discount tickets on the shows page. See you there,

The Beast
August 22th, 2005

The forum is now up and running. Yea, it looks a bit rough around the edges, but hey, it works. Don't worry, appearances will change drastically over the next week or so. Enjoy!
The Master of the Web
August 5th, 2005

Whats going on? Well we have a new webmaster, a new webserver - no bass player and a kick ass show coming up on Aug 26th with Nuclear Assault. Our good buddy Kuzin Dan will be filling in on bass for us for this one, so this show is gonna be a blast. Go to the
shows
page for info on DISCOUNTED tickets for only $10!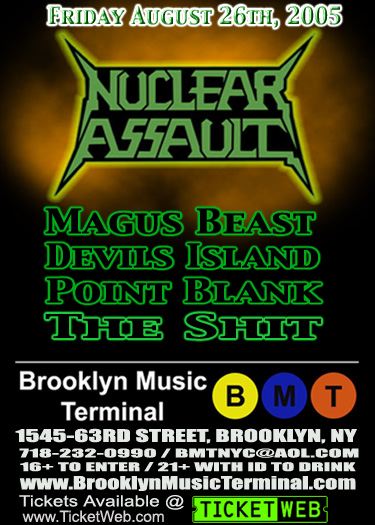 June 30th, 2005


Well it has been a week since the show at th Hook and we thought it was about time we told you what we think.The show went great! The sound was awesome and the drinks were flowing. Now what we want to ask is, W'ere the fuck was everyone!

These venues are not going to hold bands that play metal if only a few people are going to show.That's why there is nowhere to play in this fucking city.To our boys in Choptank who traveled all the way from Baltisnore M.D.,That bus must have cost you a fortune with a grand total of 17 people including the band.

Yeah I'm pissed. Not at Choptank (ok a little) but at the other two bands who for one show up super late, and two don't bother to bring anyone to the door. Jesus Christ people promote! We are to blame also but we did have an intimate group of friends there and they drank like drunken sailors. That's what the bar wants. FUCK.

Had I written this last week it would have been a lot worse.


The Beast

May 31, 2005


We are currently in the process of switching servers, in light of the issues we are experienceing with xploitedmedia.com's closure and the loss of our forum. Please bear with us, we will have it up and running shortly.

May 22, 2005


Funky Munky? How about the soaking fucking wet MUNKY! Holy shit, did it not pour out or what? And where the hell were all you Long Island metal heads, are you afraid to get a little wet?
PUSSIES!!!!!!!! HAHAHAHA!!!




Well, to the crowd that showed(and there was a good amount of people there) we would like to say "Thank You" for braving the weather and coming out to enjoy the Beast live. We had a great time, The sound man John did a fantastic job with the board, He is a true artist.




We will definitely be honored to play out at "The Munky" in the future. And of course thanks to Adam from the Munky and a special thanks goes out to HM DAVE - you rule man!!




To the guy in Tenenbrae -The guitarist -I know you know how to pronounce the name of this band. If you insult me by mispronouncing it again while you are on stage I'll shove that fucking mic down your throat.




We are plugging away at this never ending recording process of finishing the new CD, and we have some more stuff coming up real soon – check out the Shows page as we will be tearing up the HOOK with our boys from Baltimore, CHOPTANK and 2 awesome bands from out on the island, Dormitory Effect and SinAria on Sat June 11th. Come on down and help us show em how it is done. Go to the shows page for more info or

www.thehookmusic.com


Till then, See Ya!!

THE BEAST

March 3rd 2005


Finally a club opens up in Brooklyn that holds metal bands and is not the size of a port-a-john. This place has a real stage, a real sound system, and a real soundman. We are talking about The Hook, down on Commerce St. in Red Hook. Maybe it was because we haven't played in so long but man that was the most fun I've had in a long time, not that I don't always have a good time playing live.
The crowd really seemed to enjoy themselves, yelling out a whole bunch of shit at us like different songs you wanted to hear, also, it seems you guys really enjoyed all the new material that we played. FUCKING AWESOME. We are definitely going to set up some shows there in the future. We are going to try to bring some of our friends from out of state to come up and play at The Hook, being that we are always traveling to them.
With great pleasure, we want to welcome the newest member to Magus Beast. We have finally found a Goddamn bassist. Rick Hoffman is taking over for Tim Malone after an exhausting 11 month search. Congrats Rick.
We have to thank everyone in Twilight Oddessey and Zandelle, for allowing us to borrow their bassists, Gennady and Joe, when we needed them. Thank you guys for all the help.

On another note, if any of you guys are into the whole Myspace.com stuff, we just had Rick jump in and help us setup a page on there for Magus Beast. Go check it out at www.myspace.com/magusbeast. You will be able to check out pictures, show dates and some mp3 files as well.

Well I guess that's it for now, we'll see you soon

THE BEAST

January 19th, 2005
OK things have been a bit quite around here. We are still plugging away on recording the new CD and we finally see the light at the end of the tunnel. It is definitely well worth the wait! You guys are gonna love the new shit!!! Check out the shows page as we are going to be playing a couple shows soon to test out all the new material for everyone. We also would like to thank Jordan of Xploited Media for his help with all of our graphic design work. Jordan is stepping down from the position of Magus Beast's Webmaster but will still be involved in helping us with any graphic work in the future. You rule man. At the same time, We would like to welcome back a member of the family. Former Bassist, Tim Malone, will be taking over as the New Webmaster for MagusBeast.com. Let's all raise a glass and do a shot to welcome Timmy Tim back. Speaking of the Magus Beast family, everyone remembers former drummer, Steve Williams, right? Since parting ways with Magus Beast, Steve was sort of laying low and taking care of normal everyday shit out in Arizona ( oh and shooting criminals and shit!!), but We are proud to announce that Steve has joined Arizona's AURALAST. You can check out the band at www.auralast.com. They sound pretty fuckin cool to us. Now we just have to get Steve and the rest of his band to fly their asses over here to NY and tear shit up with the Beast live!!!!! Keep checking back as we will start posting some clips or the new shit as soon as we start mixing the songs. We promise, the new shit RULES !!!!!!!! See ya Soon!!! The Beast

October 4th, 2004
It always seems to surprise us, this New York Metal scene! Here it is a beautiful Sunday evening in the city and a few hundred of you come too a sweaty, smelly club and bang your heads to some of the best local metal talent that this city has to offer. God bless America. Thanks to all you metal heads for coming out to Don Hills on Sunday Oct. 3rd.We had a fantastic time and think that you did also by the great response that you gave to us and all the other bands. Also, a great thanks to Greg Pyrih for kicking some ass on the bass for us on such short notice, you rule!! Once again, Thank you and The Beast will see you soon!

September 17, 2004
Hey Hey!!! What's going on? things have been a little quiet as we are plugging away in the recording studio. Anyway, check out the shows page for all the info on our upcoming show with LYNCH MOB featuring George Lynch (formerly of Dokken)

Looking for past news and updates?
- Current News Archive
- Aug 2007 - Aug 2006 News Archive
- Aug 2006 - Aug 2005 News Archive
- Aug 2004 - Aug 2003 News Archive
- Aug 2003 - Aug 2002 News Archive