MAY 21, 2011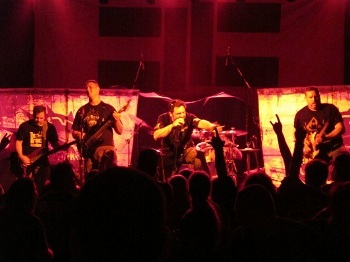 Overwhelming
. We think that just about sums it up,
OVER-FUCKING-WHELMING!!!
The past two shows that we had were absolutley amazing. First, one with our friends from Hades who always kill at Dingbatz in Clifton N.J. Anytime we can open up for you guys, we will do it without a second thought — you guys are a true class act!! Not only do you guys draw a killer crowd we are also huge huge fans of your music. Anytime guys. Just say the word!!!
Next up is Irving Plaza in N.Y.C. with the mighty Cavalera Conspiracy. 550 plus screaming metal fans and a sound system that rivals anything out there on the planet will give any band a huge hard-on. Probably one of the best shows Magus Beast has ever put on. The professionalism from everyone at Irving Plaza and Live Nation is unparalleled in this shittty industry. Thanks to the friends and family who came out to support us. You are always remembered.
The Beast
Aug 24, 2010

Hey Hey - get your asses down to the Bowery Electric on Sunday September 12th as we will be direct support for Ross the Boss at Thunderfest. Duff's Bar is sponsoring the event so get your asses down to Duff's as well to support them too!!
Thunderfest's lineup is as follows:
Ross the Boss
Magus Beast
Ravage
Martyrd
Horrifier
Seventh Calling
Made Again
Go to Ticketmaster or Ticketweb (they are both now the same company) and order your tickets before this show sells out!!! Tickets are $15 and can either be ordered
here
or you can always get in contact with us directly, as we will always have some on hand.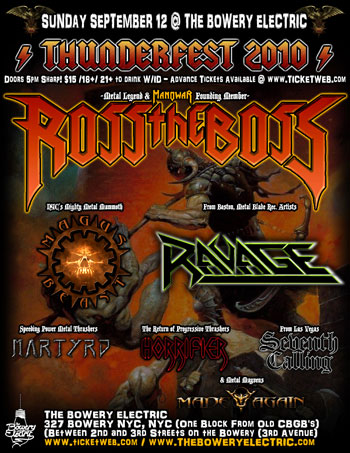 See you soon,
The Beast
July 14, 2010

There is a new energy that has consumed this machine that we call Magus Beast and his name is Mike Festa. Yeah I know that we made this announcement a while ago but it just seems to be getting better. We have played two really big shows since he has joined, one with a reunited Hades and our most recent opening for Charred Walls of the Damned at the Gramercy Theater and we must say having a seasoned drummer instead of some shithead wanna be is a breath of fresh air. There will be some big announcements in the near future so stay tuned fuckers.
See you soon,
The Beast
March 9, 2010

OK so for a while there we were quiet and then came out with some news and went back into the woodshed to work on more music. Well, we are back again. This time it is to announce a bit of a change in the world of Magus Beast... You guys are probably like what the fuck? Hell when you have been around as long as we have, things sometimes change, but they change for a reason and for GREAT reasons. So, without further delay...
Please help us in welcoming Mike Festa to Magus Beast as our new drummer... I know, I know, you are probably like these guys change drummers like they change their underwear, but TRUST us, this change is one that will help take us to next level. Mikeís heavy, aggressive playing will really help bring the power and energy that the music of the Beast needs. Mike is a music veteran and has been in the NY Metal scene a very long time. We had tried to get this pairing to work last year, but conflicting schedules and such kept it from happening. This time around all the stars have aligned and we couldnít be happier with this new addition.
On another note, we would like to say THANK YOU to Andrew Hoxter for his hard work and contributions during his short tenure with the band. Andrew is a truly gifted musician and anyone that needs a top notch drummer should definitely look him up on Myspace at
www.myspace.com/andrewhoxtermusic
.
Everything is full steam ahead for the show with HADES on April 21st so look out as the Beast is coming at ya with everything they have!!!
See ya soon

The Beast
Dec 29, 2009

Hear Ye, Hear Ye!!! Yes we are still around people. Hopefully, you are also. We know it has been a long time since you have heard from us but absence does make the heart grow fonder.
News, News, News... We have finally, after a long exhaustive search, nailed down a drummer. Ladies and Gents, Please help Magus Beast welcome Andrew Hoxter to the band. Andrew is the perfect fit for the Beast and will help us take our music to the next level. Wait, you are probably confused, saying, wait thereís Andy on Guitar, Andy on Bass and now Andy on drums? Hell we are confused too - maybe John and Ron will change their names to Andy as well!
News, News, News...
We will be opening up for Hades at Dingbatz in N.J. on Wednesday April 21st. We think that you might want to get your asses down there being that this is their only U.S. appearance with the complete original lineup. Another fun bit of info for that night is it will only be Hades and Magus Beast. No sitting through multiple bands waiting and waiting. Tickets are $12 in advance and $15 go to
www.dingbatznj.com
So what do you think? A - a new drummer!! B - a lot of new heavy material!! C - frigging Hades LIVE!!!!
Sounds good to me.

The Beast
Dec 5, 2008

More New Blood - Please Help Magus Beast welcome Andy Prezioso to the band. Andy is taking over the Bass duties for the Beast and his playing is the perfect match for what Magus Beast needs to help fill out the crushing bottom end they command. You can also check out Andy with his other band, Victim of Pain. Everyone raise your glasses and welcome Andy with a toast!!! (Now for us behind the scenes folks, we have to figure out how to let people find Andy Z and Andy P on this website. Details for us technical folks to work out)

The Beast
Feb 25, 2008

OK we have been real lax with updating the site but we have been a little on the quiet side because we were real busy. We all know that when we last updated things, we announced tha Dan has moved on and is busy with his Castrofate band and we wish him continued success with that. Now on to Current news, we have ourselves a new man on the bass. Without further delay, we are pleased to announce John Blackheart as our new bass player. John brings a much needed bottom end to the band and will really help us kick ass moving forward. John's first shows with the Beast will actually be tomorrow night, Thursday and Friday as we open up for the legendary M.O.D., featuring S.O.D. Frontman/ Madman, Billy Milano. We only have a couple tickets left so if you need anything hit us up ASAP or go to our
MYSPACE
page and order tickets right there for all 3 shows.

The Beast
Sept 12, 2007

LIZZY BORDEN TOOK AN AXE...
Hey Hey! Ok, so maybe we donít seem to show any sort of bass player anywhere, but FUCK it, we have that all squared away - despite what you read on sites like blabbermouth - we have our new guy all ready to go!! (just not going to say who it is just yet - yeah I am a DICK!!!)
So with that being said, we have just confirmed that we will be direct support for LIZZY BORDEN at the world famous LíAMOUR in STATEN ISLAND. Yes you read that right - FUCKING STATEN ISLAND!!!! Ok it may not be Brooklyn, but fuck it, as long as the guys from LAMOUR are going to open the doors somewhere, it will kick major ass!!!
So Friday NOVEMBER 2ND come on down to Lamour in Staten Island and check out a kick ass night of metal. We have tickets available on the
shows page
for only $15 each - Save like $5 a head for Beer!!!!!!!

The Beast
Sept 7, 2007

Magus Beast would like to announce that we have parted ways with "Kuzin" Dan Castro. We worked with Dan over the last few years on bass and had a blast while he was a part of the band. Dan is moving on to concentrate his time and efforts on his CASTROFATE project and we wish him nothing but the best with it.
We will be announcing our new bass player soon enough, but we figured we would be jackasses and not say anything just yet!!! Keep tuned - We are coming back harder than ever!!!

The Beast
Looking for past news and updates?
- Aug 2007 - Aug 2006 News Archive
- Aug 2006 - Aug 2005 News Archive
- Aug 2005 - Aug 2004 News Archive
- Aug 2004 - Aug 2003 News Archive
- Aug 2003 - Aug 2002 News Archive