July 17,2006

Well here it goes ,It has been a while since I have done my job and for that I apologize. The 1st annual Brooklyn Metal Fest went off without a hitch (well maybe a tiny hitch) and was a huge success. The bands were very cooperative and the entire festival ran smoothly. Can't wait till next year when it will be bigger and better, more bands, more food, more beer and I'm thinking some strippers.
Also just before the Metal fest we played a little soire at a metal club in Clifton N.J. called Dingbatz with Attacker, Hallows Eve and a few others that have escaped my memory for the moment. Let me tell you something about this club, it kicks total ass. We will return there July 21 with Attacker and Halloween and tear that place another new asshole...See ya soon!
The Beast
May 24,2006

For those of you that were going to come down and help us tear it up at the brand new club, Bottoms Up NY, well it looks like we are going to have to wait a little bit longer. Unfortunately, due to some construction issues, the club's opening has been pushed back and therefore, our show on June 3rd has been postponed. We apologize for this but it was out of our control. Keep checking back for an update as to when this show is going to happen.
The Beast
May 12th, 2006

We just added a couple shows to the
shows page
. The first being at the Brand New
Bottoms Up NY
in Flushing - right across from Shea Stadium on Sat. June 3rd. Our buds in
Victim of Pain
will be on hand as well to help us rip this place to shreds. The second new show will be on Thurs. July 6th at
The Crazy Donkey
opening up for DRAGONLORD (featuring Eric Peterson of Testament). Go check out the
shows page
as we have
discount tickets
available for only $8 (they are $10 everywhere else and $13 at the door).
The Beast
May 10th, 2006

NEW MAGUS BEAST SHIRTS AVAILABLE!!!
We have just received the brand new MAGUS BEAST t-shirts and we have to say they look
GREAT!!!
Go on over to the
Merchandise
page and order yours today!!!!
The Beast
April 30,2006

I have to tell you folks, two shows in Jersey and they were both kick ass. First the Starland Ballroom with Overkill, which was killer, and now Dingbatz with Attacker and Hallows Eve, which was a lot more intimate but the sound was great and the crowd was awesome. We will be back there in July for a little more debauchery. Oh by the way did I mention 3.00 mixed drinks.......... Awesome.

We want to especially thank the guys from Attacker for inviting us to take part in an awesome night of asskicking metal. You guys kick ass!!!
The Beast
April 12th, 2006

Check out our shows page, we have added some new stuff, including a last minute show at the Continental THIS Saturday, April 15th.
The Beast
April 11th, 2006

BROOKLYN METALFEST ANNOUNCEMENT!!!
It is with Great Pleasure that we announce the First annual BROOKLYN METALFEST to take place at the Hook on Saturday June 24th, 2006. The BROOKLYN METALFEST will present some of the area's best metal bands all under one roof. This will be an ALL DAY FESTIVAL with the first band hitting the stage at 3:30. Admission will be $10 and there will be a FREE BBQ for all paid admissions (FREE FOOD ONLY).
This Festival is just what the area's Metal Scene needs and will be a great celebration of Great metal and some great fun with the BBQ. What a great way to kick off the Summer Metal Season!!!
Bands Scheduled to Perform:

MAGUS BEAST, TWILIGHT ODYSSEY, CONSTRICTED, FINSTER BABY, DEVILS ISLAND, EXIT TO ETERNITY, EUPHORIA,FROM DARKNESS COME, SILENT INDUSTRY, SPEED ASSAULT, BURN ME DOWN, and more bands TBA!
Keep checking back here for the latest info on the festival including more bands, sponsors, etc. Go to the
shows page
for advance tickets or go to
www.BROOKLYNMETALFEST.com
for more info.
The Beast
March 6th, 2006

Unbelievable! That about sums up the show at The Starland Ballroom with Overkill and Prong. The response we got from all you metal heads for Magus Beast was amazing. We were loud, but when we are up on stage playing and we can hear the crowd roar during one of the songs, well lets just say that something funny goes on in my pants.
Magus Beast would like to thank the crews from Overkill and Prong for all the help, Especially Eric the tour manager for Overkill for being such a cool dude. Also, the guy from Prong who Eric introduced us to at the soundcheck. Sorry I don't think your name was ever said, but Thank You for all the help with the equipment on and off the stage. Also, Thank You to Joe "The Black Knight" Biondi for video taping the show for us, That DVD is going to be amazing. We definitely need to give a HUGE Thanks to the Folks at Concerts East and the Starland Ballroom ( Tony - you rule!!) - You guys took such good care of us and treated us with respect - now that is how a club should be run!!!
Last but not least, to the Jersey crowd for keeping metal alive. Thank You for welcoming us with open arms and raised fists. The Beast will be back at The Starland and hopefully you will be also.
The Beast
Feb 14, 2006

Hey Hey - wanna check out something a little bit different? Drummer Bob Delmini will be doing a one night only reunion with his old band LEGEND at Arlene's Grocery. Come on down check it out, it should definitely be a blast!! Here are the details:
Sat Feb 25th
Legend @ Arlene's Grocery
95 Stanton St.
(between Ludlow and Orchard)
New York City, NY 10002
Phone: 212.995.1652
www.arlenesgrocery.net
Legend hits the stage at 10:00pm
Jan 30, 2006

Well, what can we say. We love to play The Hook, down in the Red Hook section of Brooklyn. Once again, a real nice crowd shows up for a night of kick ass heavy metal and that is exactly what they got. The night started off with some local boys from Brooklyn called Speed Assault, who did a fine job of getting everyone in the mood. Next up were our studio-mates, Devils Island, who kicked ass. Also shredding the stage were our good friends from L.I., Constricted, they tore it up!
Then the Beast hit the stage, I must confess folks, I think I might have a little problem with the "drink", my voice was not up to par and I thought I would be able to mask it by getting shit-faced (it didn't work!). Well, next show I will try to be a little more responsible. Then, last but not least, our friends from Zandelle came up and totally put the cap on a truly great night of music.
Magus Beast would like to thank Jeff from The Hook. He is a world class gentleman for always treating us with respect. We have of course been invited back, so keep checking back for a new date at the hook. Check out the shows page as we have added some shows that are coming up in the not so distant future. Next up for us is opening for OVERKILL & Prong at the Starland ballroom, but until then we will be back in our little studio mixing this god damn record that is just about complete. Keep checking here and our myspace page for the newest clips being added.
The Beast
Dec 29, 2005

Another Year gone by – WOW - anyway, a Happy Holidays to everyone and their families and we hope you all have a great New Years. Not too much to mention here this week, as the Holidays sort of slow things down a bit. Next week, we should have some more clips of new shit up on the MySpace page.
On another note, here is something pretty cool. John may not have won this contest but he(we) is(are) one of the runner ups and we got a really cool mention about it on
Bandmerch.com
Don't forget to hit the
shows
page for tickets to our show with OVERKILL and PRONG and our show at the Hook on Jan 27th. Both shows are gonna kick ass!!!
Keep checking back for more updates as 2006 is going to be FULL of great stuff for the Beast!!!
The Beast
Dec 13, 2005

They say good things come to those who wait. Well I guess that might be true. After having a show with Overkill not happen earlier this month, it turns out that we have been invited to open for the Mighty OVERKILL and PRONG at the Starland Ballroom on Saturday March 4th, 2006. We will have discounted tickets available on the site by this weekend. Hell save some $$$$ for BEER and get your tickets from us. Hit the
SHOWS
page up for more details.
The Beast
Dec 12, 2005

Hey Hey Hey - I know we have been promising for months, so here it is: Go to the following link (
www.myspace.com/magusbeast
) if you wanna get a sneak peek at one of the tracks from the new CD. These are daily recordings from our studio sessions. They are very raw and definitely not complete, but it will give you a good feel for where we are going!!!!
The Beast
Oct 21, 2005

OK a little further update on some stuff… It turns out that after all is said and done, the Overkill show at Ritual will NOT happen. It has been cancelled for whatever reason. THAT SUCKS. But what ya gonna do sometimes.
On a brighter note, we have signed on to co-headline a night at THE HOOK in Brooklyn with Zandelle on Friday Jan 27th, 2006. Yeah it is a ways off, but with the holidays and all that shit coming up, the time will fly by and the show will be here before you know it. Also performing on that night will be our good friends Constricted, Exit to Eternity and Speed Assault. Check out the
shows
page for more info and for advance tickets.
As far as recording goes, we have moved into the vocal portion and Ron is really helping take this CD to the next level. He is really kicking some ass on these tracks. Hopefully in the next 1-2 weeks we will start mixing. I may be posting a song up here in the next couple of days, I just have to sit and decide which one to post, they are all killer.
The Beast
Oct 10, 2005

Hey - just a quick heads up. Vocals are going down tomorrow and hopefully we can finish off the leads and some bass tracks in the next week and start mixing. - Yeah yeah - we have said all this shit before, but now we are actually making some kick ass progress. next week we will post a clip on the site of one or 2 of the songs to give you guys a feel for what is almost upon us.
In other news, We have just signed on to open for the mighty OVERKILL at Ritual (voltage - ritual - whatever fucking name it goes by these days) out in Levittown, Long Island on Saturday Dec 3rd. We will have discounted tickets for only $15 a pop instead of the $20 that they will be charging at the door. Go to the
shows
page for more info as well as for easy online ordering of your tickets. They are going to go fast so don't miss out on the saving on an awesome show.
The Beast
Sept 19th, 2005

We really are getting sick and tired of being cut short at shows. First off, a big thank you to everyone who came out to the Nashville Pussy show at Voltage on Long Island.
Now for the rant. All of you club promoters SUCK. That's right SUCK!!! We come out to your shit recycled club to entertain people for an agreed upon 30 minute set. 30 frigging minutes to play after hauling enough gear to support a Manowar show. Fine, but don't cut us short by another 10 fucking minutes!!! That's bullshit. Don't give me that there is a schedule that you have to adhere to, this is heavy metal, not fucking NASA! And besides the shitty ass band that went on after us only hit the fucking stage 40 minutes after we got cut off!!!!!
One other thing, when a band who is supplying entertainment at your shit-hole is charged $12.00 for 3 fucking bottles of water after spending a few hundred at your bar and taking care of the bartender, Well a big F.U. That's not right. Have a little respect for the bands that are bringing people into that shit-hole you are running. Besides, once the Beast left the club, so did your whole fucking club – we brought everyone and everyone left when we did because they had such a shitty taste in their mouth from watching the band they came to see (and who they paid good money to see as well!!) get shafted and cut off after 20 minutes!!!
See you soon,
The Beast
Sept 14th, 2005

Bad News People – I am sad to say that due to circumstances beyond our or the club's control, the TESTAMENT show for Sept 30th has been postponed or worse, possibly cancelled outright. We should get some info in the somewhat near future for a new date. So with that said, there won't be any fun had that night cause there won't be any TESTAMENT in Brooklyn. If anyone purchased tickets, please go to your point of purchase for a full refund.
The Beast
Sept 2, 2005

Holy SHIT!! 3 news updates in 3 days??? What the FUCK is going on here??? It's all good news!! Magus Beast would like to welcome long time friend Dan "Kuzin Dan" Castro to Magus Beast. Dan is the new Bass player for the Beast. He is no stranger to Magus Beast as he has filled in for us several times over the last year. Let's all raise a glass and do a shot to welcome Dan to the dysfunctional Magus Beast family!!!!!!
The Beast
Sept 1, 2005

Hey Hey - go check out the shows page ASAP as we have all the info for our upcoming show with the original lineup of Testament at BMT on 9-30-05. Get the tickets here for only $20 - save the $5 for BEER!!! This show is gonna be
INSANE!!!
You better act fast to get tickets as they are going to sell out
FAST.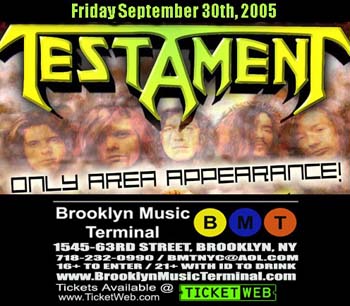 The Beast
Looking for past news and updates?
- Current News Archive
- Aug 2007 - Aug 2006 News Archive
- Aug 2005 - Aug 2004 News Archive
- Aug 2004 - Aug 2003 News Archive
- Aug 2003 - Aug 2002 News Archive